Buying Mission : InterTextile Home Textiles – Autumn Edition in Shanghai, China 27 – 29 August 2013
Buying Mission : InterTextile Home Textiles – Autumn Edition in Shanghai, China 27 – 29 August 2013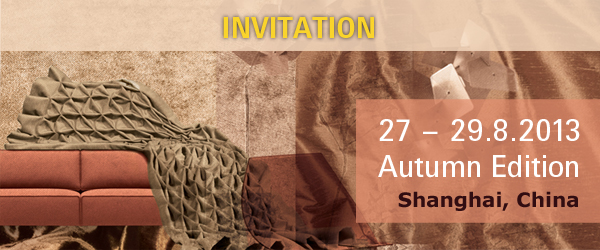 In cooperation with TCF Australia, it is our great pleasure to extend this exclusive invitation to you to attend Intertextile Shanghai Home Textiles – Autumn Edition from 27 – 29 August 2013 in Shanghai, China.
This special offer for TCF Australia members comes with local hotel accommodation for the three days of the fair period and is available on a first-come, first-served basis. Please click here for more information and an application form, or contact us using the information below.
We look forward to seeing you at the fair.
Yours sincerely,
Messe Frankfurt (HK) Ltd


For further details, please contact:
Messe Frankfurt (HK) Ltd
Ms Candice Lau
Tel: +852 2238 9982
Fax: +852 2598 8771
TCF Australia
Ms Carol Hanlon
Tel: +61 8 9479 3777
Fax: +61 8 9479 3888